About Our "Micro" Agriculture Model
We think globally, so we grow, harvest, and sell locally.
Located in Arlington, Virginia, Roots 'n Shoots is a woman/minority/family-owned, small business that provides microgreens and garden plants for the DC, Northern Virginia, and Maryland area.
When Paula retired, she started growing microgreens for family and friends. For a long time, she had noticed that even people who know about the great flavor and nutritional value of microgreens didn't have them in their refrigerator all the time. To Roots 'n Shoots, microgreens are even more important to have on hand than salad greens because of their flavor, versatility in meal prep, and nutritional value. During the COVID-19 pandemic, and knowing the immunity-boosting properties of microgreens, she and her family decided it was time to open Roots 'n Shoots.
Hi, I'm Paula and I'm on a mission to get microgreens in every refrigerator in Northern Virginia and am particularly interested in making sure families with any food insecurity have access to these nutrient-dense veggies.
Thank you Northern Virginia and DC, for supporting your hyperlocal Community Supported Agriculture (CSA)! Or should we say Community Supported "Micro" Agriculture model? We are proud that the more we sell, the more we are able to provide to local food pantries, and you make that happen.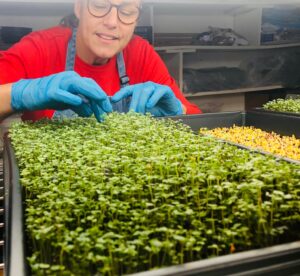 Chef Tim - Leesburg, VA
The samples were absolutely perfect.  The micro basil was amazing, and had a good shelf life (hard to find in Micro Basil).
November 2023
Tahmena - Arlington, VA
Might I add myself to a higher frequency? I'd love some on Monday. I love your sprouts and service and packaging.
November 2023 
Wendy - Arlington, VA
We enjoyed all the varieties, especially the popcorn (my daughter's favorite) and the sunflower.  I've had sunflower greens before (from another source) and they were pretty good — but yours were clearly superior.  It makes a difference how fresh they are.  And I imagine the care you put into your process has something to do with it too!
March 2023
Ingrid T. - DC
Thanks for dropping off my microgreens. They are wonderful! They are delicious, and I enjoy them on toast in the morning and with lunch!
December 2022
Chef Jeff - Arlington, VA
Thank you very much for bringing over the Daikon Shoots yesterday.  Very generous of you.  The microgreens were spicy, vibrant, fresh, and aesthetically perfect.  Paired very well with the pork belly and kimchi last night!  
November 2022
Eleanora - Alexandria, VA
Thank you, Paula, for providing the amazing microgreens. Greatly appreciate the wonderful relationship.
Melanie - Arlington, VA
Thank you for sharing your microgreens with me! They are delightful! 
Marcia - Lake Barcroft, Falls Church, VA
To my surprise my son enjoyed the microgreens you brought last week. Plus, it's amazing how long they last in the fridge.
Ann C. - Arlington, VA
I forgot to mention how much I enjoyed my microgreens from last week. They really added to every meal! 
Susan C. - Arlington, VA
Thank you for having a stand at the Pike Park (aka Columbia Pike) Farmers' Market. We have bought microgreens at the market these last two Sundays and we love them. The woman selling is very nice and helped us decide on which variety to get. Please keep coming out! 
Cristian, Arlington, VA
The microgreens are always crisp, full of flavor, and keep well for a week in the [compostable] clamshells.
Susan H. - Arlington, VA
I have been loading them into salads and soup, eating them by the handful, and sharing with friends when I get the chance. 
Nora - Alexandria, VA
The sorrel is fantastic, you can add it to my rotation in the future! 
Christina - Lake Barcroft, Falls Church, VA
Your greens are SO FRESH!
Aside from adding to our dinner salads. I took your greens, put them on a toasted piece of sprouted grain bread with fresh sliced mushrooms and a bit of cheese melted on top. Yum!!
Elaine - Lake Barcroft, Falls Church, VA
Greens were very fresh and tasty.
Melissa C. - Arlington, VA (Food Pantry Worker)
We had about 70 families at the Food Pantry today. The microgreens were all gone in the first 45 minutes! So, they were popular. 
Thanks for the donation. 
Tom & Sylvia A. - Barcraft, Arlington, VA
We have been regularly enjoying your microgreens on our menu this holiday period.  Thanks. They really add taste and texture to any dish! 
Dana D. - Washington, D.C.
I'm continuing to enjoy the microgreens. I believe I've discovered a favorite amongst the many good selections I've had so far: Sunflower Shoots! There's something about the flavour I can't get enough of. Most recently it has paired delightfully as a garnish atop some quiche. It's awesome.
Rui - Fairlington, VA
Thanks so much for the prompt delivery! I love the flavor! This is exactly what I've been missing from NY! ❤️
Adriana S. - Arlington, VA
Have to share they are delicious and so worth adding to your meals! We love the sunflower as they are super kid friendly, tasty, and easy to eat but so many others are delicious too!