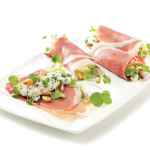 Print Recipe
Prosciutto Wrapped Radish Microgreens
Prosciutto and goat cheese make this wrap an amazing addition to any get together.
Ingredients
2

oz

Prosciutto

2

oz

Roots 'n Shoots Radish Microgreens

2

oz

Goat cheese

You may want to substitute with your favorite soft cheese.

4

Tbsp

Lemon juice

fresh

2

Tbsp

Red wine vinegar

1

Tbsp

Dijon mustard

Whole grain is best

1

Tbsp

Olive oil

Any flavorful oil will do such as sesame, hazelnut, or Meyer lemon
Instructions
Cut prosciutto into uniform strips about 2 inches wide and 6 inches long.

Press about a teaspoon of fresh goat cheese onto the prosciutto.

Blend vinaigrette ingredients well with a whisk

4 Tbsp Lemon juice,

2 Tbsp Red wine vinegar,

1 Tbsp Dijon mustard,

1 Tbsp Olive oil

Place a pinch of greens on top of the goat cheese.

2 oz Roots 'n Shoots Radish Microgreens

Drizzle some of the vinaigrette onto the greens and roll up. Then drizzle a bit more on top. Set Roots 'n Shoots microgreens around the plate as decoration.